Common Name: Neem oil

Botanical Name: Azadirachta indica
Other Names: Indian Lilac, Margosa tree, paradise tree, Nimb oil
Introduction
The Neem tree has its origin in India. It's an evergreen tree. It is found in abundance in Asia and Africa. This medium sized tree has wonderful natural antiseptic properties and it helps fight pollution. The oil is extracted by the method of solvent extraction from the fruits, seeds and kernels of the tree.

The oil is a viscous liquid of brown color having a rich musty smell. It has various chemical compounds including Nimbidin, Nimbin, Margosic acid, Nimbinin, Nimbicetin, Meliacin, Azadirone and B-Sitosterol etc.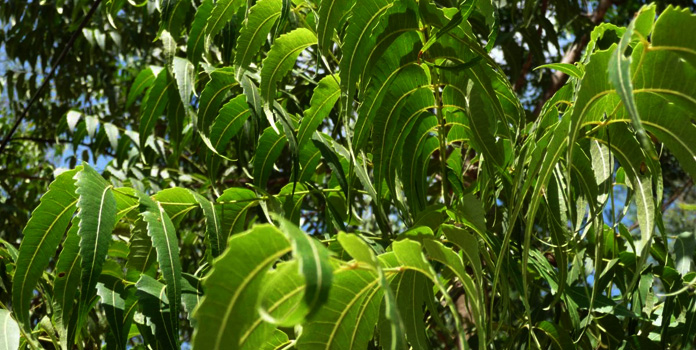 Uses of Neem Oil

Aromatherapy uses: It has wonderful antiseptic properties and prevents the body cells from being infected. Therefore it is widely used as an herbal remedy for various skin diseases. Because it is rich in glycerides and fatty acids and is a natural moisturizer it is extensively used in the formulation of various skin care lotions and creams. It is also used for the treatment of painful joints and muscles. It cures dandruff and heals wounds.

Medicinal uses: In the Ayurvedic system of treatment it is widely used to detoxify the body. It is also a medicine of choice for the treatment of diseases like tuberculosis, malaria and arthritis. It is also used to flush out the intestinal worms and for the cure of various skin conditions. It is also helpful in the treatment of piles.

Other uses: It removes bacteria and fights bad odors. It also prevents excessive perspiration and improves complexion. Therefore it is one of the most important ingredients of almost all herbal skin creams and lotions. This oil is also used in creams formulated to treat scalp psoriasis. Due to its antiseptic properties this oil also finds place in various cosmetics, shampoos and conditioners.

Statements on this website is collected from online and offline references, they are an effective way of learning and sharing. With this knowledge, we can take control of our own health. These statements have not been evaluated by the FDA. Products and techniques mentioned here are not intended to diagnose, treat, cure or prevent any disease. However, when you give the body what it needs then the body can heal itself as God intended it to. We are bulk suppliers/Exporters of herbs, and raw materials this website is intend to provide option for various herbs buyers/importers/our customers, buy small Qty swiftly and pay for the product and shipping.