Indian Name : Katuka

Botanical Name : Picrorhiza Kurroa

Other Names : picrorhiza, kutki, katuka, kutka
Introduction
It is a small perennial herb from the Scrophulariaceae family. The rhizome of Picrorhiza has been traditionally used to treat worms, constipation, low fever, scorpion sting, asthma and ailments affecting the liver. Current research on Picrorhiza kurroa has focused on its hepatoprotective, anticholestatic, antioxidant, and immune-modulating activity.
Origin
Picrorhiza kurroa also known as kutki is found in the North-Western Himalayan region from Kashmir to Kumaun and Garhwal regions in India and Nepal.
Chemical composition / key active constituents
Kutkin, a bitter glycosidal principle, is reported. Also isolated D-mannitol, vanillic acid and some steroids are present. Kutkin was later shown to be a stable mixed crystal of two C-9 iridoid glycosides-Picroside I and Kutakosid. Apocynin has been isolated from the plant. Picroside II has been isolated and shown to have hepatoprotective activity. With the help of preparative HPLC, larger Quantities of picrosides have been isolated, permitting precise structure identification and biological experiments.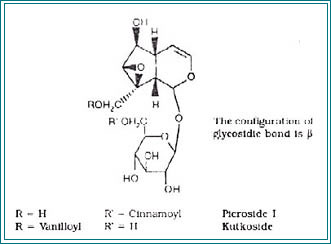 Pharmacology
Alcohloic extract of the plant and kutkin possess hepatoprotective activity. Plant is a potent immunostimulant of both cell mediated and humoral immunity and exhibits choleretic activity in dogs. Picrorhiza kurroa is also benefical in the management of bronchial asthma.
Remedies For
Protects the liver against hepatotoxins, hepatoprotective properties, Potent antioxidant activity, Modulates liver enzyme levels, anti-inflammatory action anti-allergy action.
References:
Atal CK, Sharma ML, Kaul A, Khajuria A. Immunomodulating agents of plant origin. I:preliminary screening. J Ethnopharmacol 1986;18:133-141.
Subedi BP. Plant profile: Kutki (Picrorhiza scrophulariiflora). Himalayan Bioresources 2000;4.
Weinges K, Kloss P, Henkels WD. Natural products from medicinal plants. XVII.picroside-II, a new 6 -vanilloyl-catapol from Picrorhiza kuroa Royle and Benth. Just us Liebigs Ann Chem 1972;759:173-182. [Article in German]
Stuppner H, Wagner H. New cucurbitacin glycosides from Picrorhiza kurroa. Planta Med 1989; 55:559-563.
Statements on this website is collected from online and offline references, they are an effective way of learning and sharing. With this knowledge, we can take control of our own health. These statements have not been evaluated by the FDA. Products and techniques mentioned here are not intended to diagnose, treat, cure or prevent any disease. However, when you give the body what it needs then the body can heal itself as God intended it to. We are bulk suppliers/Exporters of herbs, and raw materials this website is intend to provide option for various herbs buyers/importers/our customers, buy small Qty swiftly and pay for the product and shipping.