Indian Name: Hadjod

Botanical Name: Cissus Quadrangularis

Other Names: Veldt grape, Cissus, Harjora, Asthisanhari .
Introduction
In the recent ages people have become very health conscious and have started maintaining their physique to a level where they are taking additional care about it and are also hovering around for the search of best supplements and they often choose creatine monohydrate or amino acids. In the same regard there is this supplement, Mega Cissus, which has high content of herb which is called Cissus Quadrangularis, which not very popular if we go by the publicity given by press but entails within itself immense benefits and all the perfect characteristics which a natural supplement should have.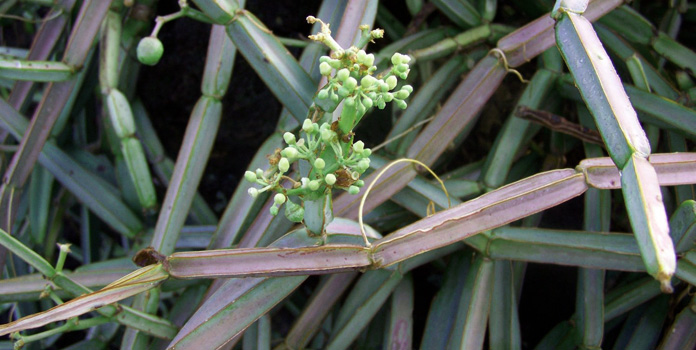 Cissus Quadrangularis is a perennial plant belonging to the grape family and is found in parts of India and Sri Lanka. This plant is known to have great medicinal benefits which are outlined clearly in the ancient Ayurvedic texts. It also has the capability to heal bone fractures. It also finds its usage in fat loss to increasing the muscle mass. Increase in the muscle mass or muscle hypertrophy is what is done by many persons who go to the gym and work out a lot to attain that perfect physique which can be admired by others. When a person lifts weights I the gym the process releases certain hormones and chemicals which helps the muscles to grow in size.

The lifting of weights causes the release of anabolic hormones which is nothing but the testosterone and growth hormones. Apart from this because the body is still undergoing the stress in gym due to physical exercises, cortisol is releases which proves to be a bad element for muscle growth as it obstructs the protein synthesis and also enhances the degradation of amino acids. Cissus interacts with the glucocorticoid receptor by effectively binding and thus acts as a GR antagonist. It thus ensures that cortisol does not get binded to the receptor and hence helps in the reduction of the harmful effects of cortisol on the development of the muscle growth. Not only this benefit does it entail but it also helps when there is a slight injury during work out and so it helps in the recovery process.

There have been research which has carried out from time to time, and it has been seen that atheletes have been using Cissus for faster healing from their fractures as it helps in the increased and the early production or regeneration of the connective tissues namely fibroblasts, the chondroblasts and osteoblasts which is required elements in quick healing. It also provides or supplies nutrients to the tissues which have injured thus soothing the pain of the injury. Thus it is clearly seen that Cissus has varied and essential benefits which is very much required for everyone who intend to work out and have a healthy body and a great physique. As it is a natural supplement people can be assured that it does not have any side effects but again it is fine to consult a trainer or a doctor before having to take Cissus continuously for the purpose of muscle building, healing small injuries or even fractures.
Statements on this website is collected from online and offline references, they are an effective way of learning and sharing. With this knowledge, we can take control of our own health. These statements have not been evaluated by the FDA. Products and techniques mentioned here are not intended to diagnose, treat, cure or prevent any disease. However, when you give the body what it needs then the body can heal itself as God intended it to. We are bulk suppliers/Exporters of herbs, and raw materials this website is intend to provide option for various herbs buyers/importers/our customers, buy small Qty swiftly and pay for the product and shipping.