Essential oils are not only delicate but also volatile in nature as they are extracted from the seed, leaf, flower, root or bark of the plant. The oils are considered as the life force in every plant. Essential oils are said to posses' powerful properties that help them to pass through all the cell membranes and can permeate the body in a very short period of time.  Each of the oil has got a distinctive aroma, which is popularly used in aromatherapy for various therapeutic as well as curative effects. You have the option of either using the quality essential oils or organic essential oils alone or can just mix them into essential oil blends. In order to achieve high degree of absorption, it is very important that you obtain the best quality essential oils.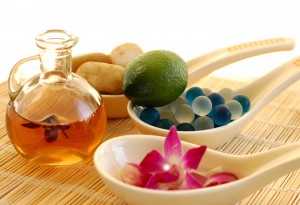 A pure and high degree of essential oils exudes great degree of taste, aroma, colour and therapeutic effect. When they are extracted from the plant, the oils' volatile property is so strong that you will have to dilute them. As the skin absorbs the oils readily, many essential oils can be applied directly on the skin with many beneficial effects, on the other hand some of the oils may cause caustic effects and thus you need to be careful. Majority of the organic essential oils are used for circulating through the air with the help of some special diffusers. A large number of them are also used in other carrier foils for the purpose of massages or other cosmetic preparations. Their best use perhaps is in the field of aromatherapy.
The power of pure organic natural oil blends may be combined so as to create a synergy of the properties and to enhance the power of the oil. For example, the blends that are made by mixing eucalyptus essential oils, cedar wood and lavender flower oils helps for the revival of respiratory system and lungs. The blend will also become more powerfully soothe and clear the membrane and tissues. Majority of the blends are ideal for preparing your own essential oil blends and to use them over time. Besides, you can also purchase the essential oil blends from the market. However, you need to ensure that you are buying them only from reputed stores or quality vendors.
Go for the oils that 100% pure and natural. The best essential oils are those that are processed from the finest plants and are free from any kind of adulteration or dilution. If you are procuring a commercial prepared essential oil, then you should always look for certification of the product before using them. Also, sometimes you will find some products like "fragrance oil", "perfume oil" and "natural identical oil". These words might sound attractive to you, but they indicate that the essential oil is not pure single oil and is just a mixture which is commercial prepared.