Between the chemical treatments, hair conditioners, shampoos, styling tools and styling gels, it is our hair that takes a lot of abuse. We adopt various ways to make our hair look good, but some of the techniques might prove to be damaging for hairs. The following are the three natural oils that will provide you with smooth and health hair and will help in restoring the shine and bounce of the hair. Not only this, these natural oils will help to promote healthy hair growth.
Extra-Virgin Olive Oil
If you don't like putting salad dressing or eggs on your hair then you can consider the option of applying olive oil on your hair. Since this oil is a natural moisturizer and conditioner, it helps to strengthen your hair and reduced the hair loss as well as dandruff. Follow the steps given below to promote healthy hair growth using olive oil.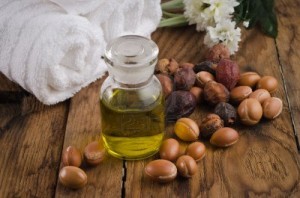 - You should combine half cup virgin oil with other oils like lavender or rosemary and store it for 24 hours in a cool, dry place.
- Pour one tablespoon of the mix in your palm and rub your hands to warm the mixture.
- Using fingertips, massages the mixture in your hair.
- You should fasten a plastic bag on your hair with the help of elastic headband and allow it to work for 30 minutes.
- Rinse the mixture and then shampoo.
Argan Oil
This oil is derived from the kernels of the Argan tree, which is found in Morocco and is very rare and this is the reason why this oil is highly expensive. However, the essential fatty acid helps in lending strengthen to the protein in your hair; thereby reducing the spilt ends and makes them strong. It is also rick in Vitamin E and helps a lot in repairing the chemical damage that is done to the hair. It helps to moisturize and shine the hair, without making them feel greasy.
In order to apply them, start by rubbing this oil into your hands and apply it to scalp as described above. In order to distribute oil more evenly, you must use comb or brush.
Coconut Oil
It is not only used in sunny as well as tropical beaches but also it helps to provide a wide range of benefits including:-
- It is rich in Vitamin E, which is vital for healthy hair growth.
- Since it is a natural emollient, the coconut oil bins help you to restore the shine of the hair by sealing the moisture that is there in each of the stand.
- The capric and lauric acids that is found in the oil have got antimicrobial properties. The microbes that are present in the roots an scalp of the hair are a main cause of hair loss and thus the coconut oil helps to stop or slow down the hair loss.